Its official that Punjabi actress Rakul Preet has been roped in NTR biopic essaying the role of Legendary actress Sri Devi, Rakul Preet who has set her mark in Tollywood is in the list of top most heroines today. There are high expectations on this movie due to ensemble cast as well as Rakul Preet Performance. She started her shooting yesterday and the film team has given a special gift to her and fans of a much-talented actress on the special day of her birthday. The first look of Rakul Preet as Sridevi in the NTR biopic has been revealed by the filmmakers. See the First Look Below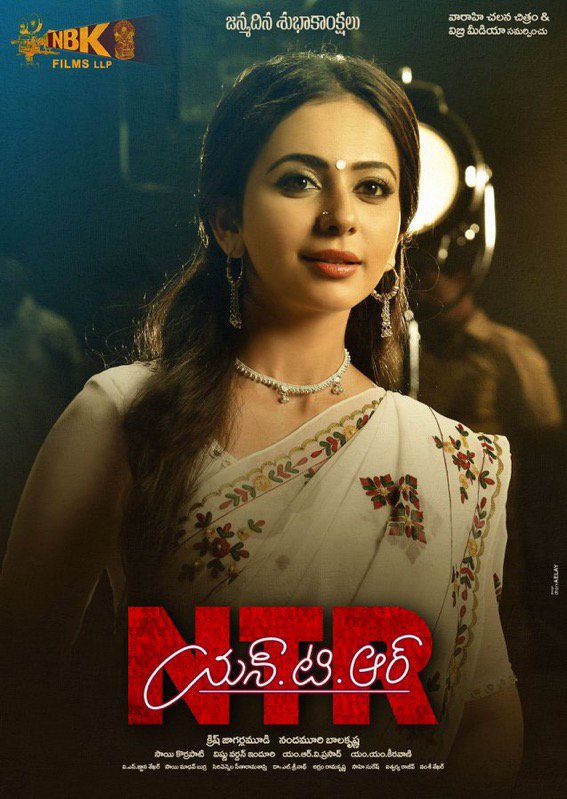 Rakul Preet makeover as Sri Devi needs to be appreciated and the actress perfectly resembles like Sridevi in the early 1980's. We can definitely expect a solid performance from Rakul as an Iconic lady of Indian cinema.
Sources revealed one more exciting news from NTR Biopic is much delight full song in late 70's and 80's 'Aaku Chatu Pinde Tadise'iconic rain song from the film Vetagadu is still remembered many, director Krish is planning to recreate this classic rain song with Balakrishna and Rakul again in NTR Biopic. This film will be released in two versions as Kathanayakudu and Mahanayakudu. NTR Kathanayakudu will be released on January 9th within a couple of weeks NTR Mahanayakudu will be released.